The third concert of our thirty-third season begins with a song by Schubert that quotes the same funeral march theme from Ludwig van Beethoven's Third Symphony ("Eroica") referenced in Metamorphosen by Richard Strauss, the work that concluded our October concert. Franz Schubert's Auf dem Strom for Tenor, Horn and Piano, D. 943 was written at the beginning of his own final year, 1828, on words from a poem by Ludwig Rellstab (1799-1860).
Like the Eroica Symphony, Schubert's work was dedicated to the memory of one thought to be greater than its author. Premiered at Schubert's first and only public concert during his lifetime, Auf dem Strom was to mark the first anniversary of Beethoven's death and intended to underscore the loss by incorporating phrases from Eroica's funeral march in its melody. (See highlighted section below.) The sense of loss is made palpable when Beethoven is imagined as the speaker in the poem, bidding farewell to life and love, no longer able to hear songs from the shore while being carried along on a boat out to sea on an ever-rushing stream. Schubert paints musical images of land and seascape through his use of the natural horn associated with the hunt and distance, and triplets in the piano accompaniment to evoke flowing water.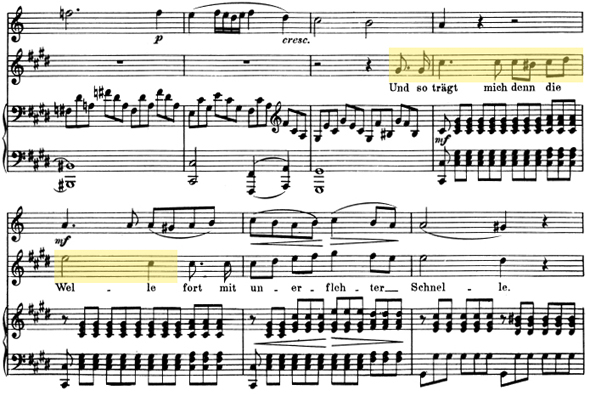 In the poetry selected for two short songs by Johannes Brahms memories of songs, fragrances, dreams and feelings of childhood are recalled in the down pours and gentle summer rain in Regenlied (Rain song), and as sad tears in Nachklang (Echo). These songs are prologue to the performance of his Violin Sonata in G major, Op. 78. The 'raindrop' accompaniments and motifs of the songs appear again in the last movement of the sonata and are the reason it is often referred to as the Rain Sonata.
Following the intermission, we conclude our program with Johannes Brahms's great Horn Trio in E-flat major, Op. 40, long a favorite at our concerts. Brahms dedicates this trio to the memory of his mother.
We will gather next after many holidays, at 3 pm Sunday, January 31, at the Fitzgerald Theatre of Cambridge Rindge and Latin School for a program entitled Parisian Provenance, in which we remember that Paris remains the City of Light!
Enjoy!
Marcus