Mozart, Harbison and Schumann
The cultivated musician may study a Madonna by Raphael, the painter a symphony by Mozart, with equal advantage.   –Robert Schumann, Journal of Poetry and Thought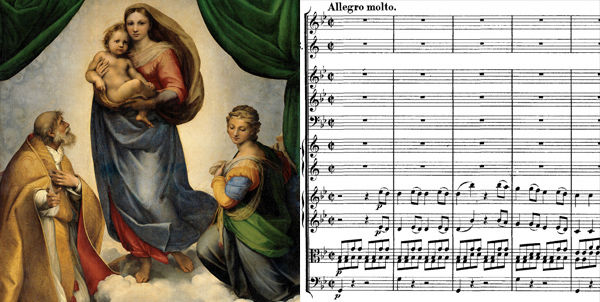 We conclude our season with three masterworks: two for string trio with piano from the past, and one, for string trio by a local master, played for the first time in Boston. Each of these shares the distinction of being great among works for small forces by masters of the epic. Each, as well, displays relationships to earlier works from which it is a descendant.
Mozart's First Piano Quartet (1785), born of a publisher's commission, in the dark and stormy key of G minor used earlier in his Symphony No. 25, actually cost Mozart the completion of the project because it was received as too difficult to play and not quite cheerful enough for popular taste. Today this quartet for string trio and piano, the first great effort in this form, is heard much as Schumann described the later Symphony No. 40 in G minor—"full of Hellenic grace"—beautifully proportioned, and elegant. Mozart's Second Piano Quartet considered less challenging for listeners, although equally difficult for players, was produced on his own terms for a virtuoso pianist, and free of market approval.
Harbison has identified his new String Trio (2013) with the great Mozart Divertimento in E-flat major, K.563, a six-movement work that also inspired Beethoven's E-flat String Trio of the same size. Harbison calls the earlier work "the once and future king" of the genre, acknowledging its "stretches of great learnedness and patches of casual geniality" and how it "exults in the sufficiency of two or three voices." Where it departs most from the Mozart example is in its abundance of duos and expansive solo cadenzas, for each of the instruments and pairs, as well as sections where all three move in perfect rhythmic unison or staggered unison, i.e., in canon. In doing so he seems to exult in the "game" of chamber music—unity through imitation and agreement—while exploring the freedoms of being left alone, or of recalling that sometimes "three's a crowd!"
Schumann's Piano Quartet in E-flat major, Op 47 (1842), which lives still in the shadow of his great Piano Quintet written earlier that year, was created for performance by his wife, Clara, who by 1848 toured with the work to St. Petersburg, Berlin, Prague, and Vienna. In structure, its first movement has much in common with Haydn's practice of writing a slow introduction and Beethoven's practice of returning to that introduction in the middle of a fast movement. The second movement is in the style of a Mendelssohn Scherzo, in the dark key of G minor! (Schumann is known to have almost idolized Mendelssohn.) The third movement is the one audiences love best—tuneful, heartfelt, and simply textured. At its mid-section it turns inward looking to the point of being Beklemmt (i.e., choked with emotion) as Beethoven specifies in the Cavatina movement of his Op.130 string quartet. Thereafter the simple tune of the opening returns, this time in the viola part, ending the movement on a hopeful note. The last movement opens with a running fugato theme similar in character to the opening of the last movement of Beethoven's Hammerklavier Sonata. Melodic episodes and extensive canonic imitation, of which Harbison partakes, follow before returning to the energetic fugato to close.
Enjoy!
Marcus