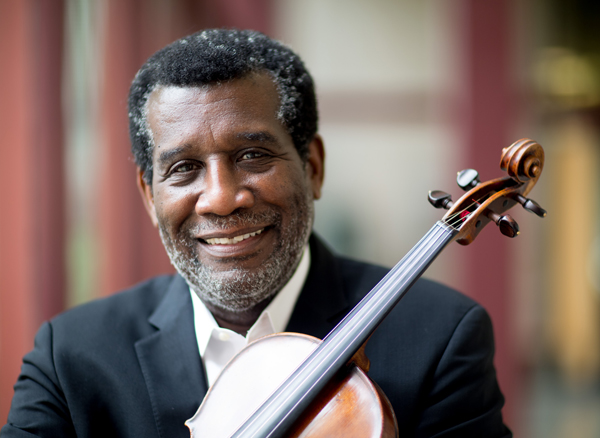 MIT announced that BCMS Artistic Director and violist Marcus Thompson has been awarded its highest faculty honor, the title of Institute Professor. He joins a small group of Institute Professors at MIT, now numbering 13, along with 10 Institute Professors emeriti. The new appointment is effective July 1.
According to MIT's Policies & Procedure, "The title of Institute professor is an honor bestowed by the Faculty and Administration of MIT on a faculty colleague who has demonstrated exceptional distinction by a combination of leadership, accomplishment, and service in the scholarly, educational, and general intellectual life of the Institute or wider academic community."
In addition to his well-known concert career as soloist and chamber musician, Marcus has been an influential presence at MIT for over four decades. He arrived at MIT as an assistant professor of music in 1973, and was named the Robert R. Taylor Professor of Music in 1995, the same year he was named a Margaret MacVicar Faculty Fellow for exceptional teaching. At MIT, he has developed programs for the study and performance of solo repertoire and chamber music literature from five centuries. As a member of the viola faculty at the New England Conservatory of Music since 1983, Marcus has taught aspiring professionals who now hold positions in orchestras, chamber ensembles, and universities worldwide.
"My initial reaction was that I was shocked, stunned, amazed," Marcus says of learning of his appointment as an Institute Professor. "I'm also extremely grateful and humbled by the recognition not just of me, but the fact that there is music at MIT, and high-quality music. It's a privilege to be at MIT, and to be recognized is just an honor."
"Over his long career, Marcus has worked to give students access to a world-class music program that has changed MIT," says Steven Hall, chair of the MIT faculty and a professor of aeronautics and atronautics. "Many colleagues told us about his commitment to and generosity with students. Like Penny and Ron, Marcus is one of the great men and women of our faculty who inspire us every day."
(Photo credit: Bryce Vickmark | MIT News Office)
For more details, see MIT News Office annoucement: Chisholm, Rivest, and Thompson appointed as new Institute Professors