---
Seeing the Unseen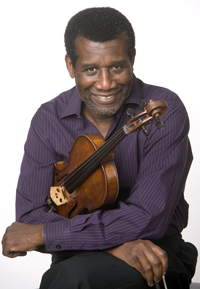 Dear Friends,
For us at BCMS the performance of the great chamber music literature is one of those miracles that arise from the joy of intimacy and focus. Many of you ask who leads, how we know whom to follow, and how we decide. The answers may be found in attending one of our open rehearsals. You may learn that we are guided as much by feeling as by thought, that we rely on the guidance from the composer, aural tradition, imagination, advice of our colleagues, the fun of imitation, and the comfort of being able and willing to add our individual voice in agreement. Some of this is seen in concert since that is, after all, what "in concert" also means. But, much remains unseen and therefore mysterious even to the most experienced listeners.
In our thirty-fourth season, you can see and hear passionate collaborations among world-class players in the familiar, the rare, and the new. Among the familiar are string trios of Haydn, Beethoven and Kodály; piano trios of Beethoven, Schubert, and Schumann; piano quartets of Brahms, Dvorák, and Mahler; and the Mozart Clarinet Quintet.
Among the rare are the mighty Elgar Piano Quintet, Jongen's Two Pieces for Flute, Cello and Harp; and Ravel's Introduction and Allegro. The one hundredth anniversary of its premiere inspires us to introduce Korngold's precocious String Sextet in our season finale as a follow up to String Sextet No. 2 of Brahms performed earlier in February.
The newest of the new is our latest Commissioning Club offering, David Rakowski's Quintet for Oboe and Strings. It is preceded two months earlier by a work for the same forces by Sir Arthur Bliss. Peter Child's Seeing the Unseen adds the hearing and feeling dimension to the world of light captured in slow motion scientific film. In all, there are five works by composers of British descent, the most in any recent series. That, too, is "Seeing the Unseen."
Enjoy,
Marcus A. Thompson, Artistic Director