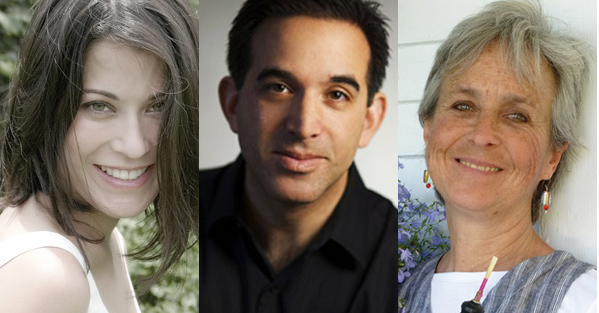 We are proud to welcome three artists to our roster of member musicians: violinist Jennifer Frautschi, pianist Max Levinson, and oboist Peggy Pearson.
Speaking of the appointments, BCMS Artistic Director Marcus Thompson said, "We are pleased that Jennifer, Max and Peggy all accept our invitation and agree to join our group. Each of them has appeared with us on numerous occasions throughout the years and has impressed audiences as well as fellow musicians. Each also brings practical experience to the task of growing our audience, serving our community, and sharing in our artistic excellence. I will be a grateful beneficiary of their wisdom and experience."
After accepted the invitation, Ms. Frautschi said, "I am thrilled to make my long-standing relationship with the Boston Chamber Music Society official by becoming a member musician. As a Boston resident who travels far and wide to concertize, I love nothing more than performing right here at home. I began collaborating with the musicians of the Boston Chamber Music Society on a yearly basis not long after finishing school, and over many years, BCMS has become like a musical home for me. I look forward to deepening my ties with my fellow artists and the devoted audience members of BCMS."
When asked about his joining the Bosotn Chamber Music Society, Mr. Levinson stated, "It is a tremendous honor for me to join the BCMS family as a member musician. I have loved performing with the wonderful musicians of the Boston Chamber Music Society throughout my career under different settings and in recent years as a guest artist on its season series. BCMS enjoys a distinguished history and tradition as a cornerstone of music in New England, and I am excited to be a part of its future."
Ms. Pearson said of her decision to accept the appointment, "Ever since I went to Kinhaven Music School for the summer at the age of twelve, I have lived to play chamber music. Playing chamber music in rehearsal alone is a joy, and being given the privilege of sharing it with an audience is just off the charts! I am honored to be asked to become a member musician of Boston Chamber Music Society. I have listened to and admired BCMS for as long as I have lived in Boston, and my performances with this group as a guest artist have always been a great pleasure. I so look forward to working with Marcus again and performing with my new colleagues as a member musician."
All three musicians will appear in their new roles during the 2016-17 season on our series: Ms. Frautschi will be featured in the March 12 and May 14 concerts; Mr. Levinson will perform three concerts this fall on September 25, October 23 and November 13; Ms. Pearson will perform on Janaury 29 and April 9 whose program features Entre Nous, a new oboe quintet by Boston composer David Rakowski, commissioned by the BCMS Commissioning Club.