@ Sanders, Concert Calendar
November 12 — 7:30 pm
Venue:
Sanders Theatre
Robert Schumann
Piano Trio No. 2 in F major, Op. 80
Arnold Schoenberg
Ode to Napoleon Buonaparte, Op. 41
Johannes Brahms
Piano Quartet in G minor, Op. 25
Featured Musicians
David Kravitz, reciter
Yura Lee, Yoo Jin Jiang, Geneva Lewis, violins
Marcus Thompson, viola
Clancy Newman, cello
Max Levinson, piano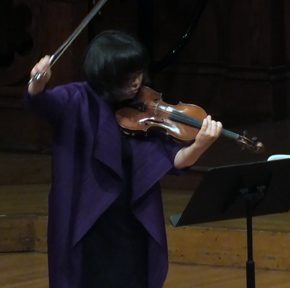 Buy Tickets
Schumann demonstrates the potential of clever reiteration and counterpoint in his Piano Trio No. 2 in F major. The composer's crusade against musical superficiality and showiness is evident in this trio; the instruments communicate Schumann's love for beautiful harmony and theme without straying from midrange. Schoenberg's Ode to Napoleon Buonaparte from 1942 is a marriage of a dramatic recitation of Lord Byron's poem on the downfall of the controversial leader with biting musical commentary from a piano quintet. The work was his protest against the periodic return of tyranny. The premiere of Brahms' Piano Quartet in G minor in Vienna established him as one of the leading composers of the time. From the brisk march in the Andante con moto to the use of Hungarian style in the last movement, the quartet shows that even early in his career Brahms had a knack for reinventing pre-existing forms.
Read Program Notes
Piano Trio No. 2 in F major, Op. 80 [1847]
ROBERT SCHUMANN
Born June 8, 1810 in Zwickau, Germany
Died July 29, 1856 in Endenich, Germany
Schumann, who struggled throughout his life to maintain his mental health, reached a crisis point in 1844, when he was overcome by symptoms of insomnia, phobias, exhaustion, paranoia and auditory hallucinations. As he emerged from a long and deep depression, he found that the flow of music that had once come so naturally could no longer be taken for granted. He later wrote in a diary, "I used to compose almost all of my shorter pieces in the heat of inspiration. … Only from the year 1845 onwards, when I started to work out everything in my head, did a completely new manner of composing begin to develop."
Schumann's "completely new manner of composing" was well developed by 1847, when he composed two piano trios that demonstrated the renewed rigor and cohesion of his craft. One important new ingredient was counterpoint, inspired by a detailed study of the music of J. S. Bach. In the Piano Trio No. 2 in F major, that tendency is apparent as soon the primary theme begins to split into short fragments that shuttle between the piano and the strings. Still, Schumann's earlier lyricism remains a vital part of the music; the first movement even quotes a song from Liederkreis (Opus 39), a cycle from Schumann's love-soaked, song-filled year of 1840, when he finally married his beloved Clara.
The melody that begins the slow movement is another marvel of lyricism, one made all the more luxurious by the active midrange accompaniment from the cello and rumbling comments from the piano's bass register. The contrapuntal process is even more explicit in the sly third movement, in which the voices follow each other in canon. The finale continues with the precise dissection of its motives, making the most out of a few basic gestures outlined in the opening passage.
Ode to Napoleon Buonaparte, Op. 41 [1942]
ARNOLD SCHOENBERG
Born September 13, 1874 in Vienna, Austria
Died July 13, 1951 in Los Angeles, California
After the Nazis took over Germany in 1933, a purge of Jewish faculty members cost Arnold Schoenberg his teaching position in Berlin. He immigrated to the United States and spent his first year teaching in Boston and New York, but the cold northeast winter exacerbated his health problems, so he moved to Hollywood in 1934. When the League of Composers approached Schoenberg with a commission in January of 1942—just a month after the bombing of Pearl Harbor—this grateful refugee was all too eager to make a political comment; as he wrote, "I knew it was the moral duty of intelligentsia to take a stand against tyranny."
Schoenberg's Ode to Napoleon Buonaparte sets a venomous poem by Lord Byron that shares the same (sarcastic) title. Written just after Napoleon surrendered and accepted exile on the island of Elba, this view from 1814 of a disgraced despot touches on timeless themes of narcissism and abuse of power. The text is delivered in the same Sprechstimme ("spoken voice") style that Schoenberg pioneered in Pierrot lunaire, in which the rhythms are precisely notated, but the pitches are only approximate and relative. The hyper-expressive writing for string quartet and piano supports the vocalist's exhortations, while also incorporating some sly word painting, as in the flashes of the famous "V-for-Victory" motif from Beethoven's Fifth Symphony that arise under the line, "The earthquake voice of Victory."
Ode to Napoleon Buonaparte, by Lord Byron (link opens in a new tab)
Piano Quartet No. 1 in G minor, Op. 25 [1861]
JOHANNES BRAHMS
Born May 7, 1833 in Hamburg, Germany
Died April 3, 1897 in Vienna, Austria
After Robert Schumann's leap into the Rhine River and confinement to an insane asylum in 1854, his young friend Brahms moved to Düsseldorf to help manage the Schumann household and care for the children while Robert's wife, Clara, supported the family playing concert tours. This arrangement ended two years later, forcing Brahms to reconcile both the loss of his mentor and his painful separation from Clara. (What exactly was their relationship status? We might say, in today's parlance, "It's complicated.") The next years were filled with setbacks and disappointments, especially in the realm of orchestral music. Brahms finally regained his footing by following the model of Schumann and working in the genre of chamber music, even though it was hardly the fashion in a musical culture dominated by the grandiose experiments of Wagner and Liszt.
After completing a breakthrough string sextet, Brahms crafted three immortal scores in formats championed by Schumann: two piano quartets (both from 1861) and a piano quintet (1862). Besides Schuman, Brahms could look to the example of Mozart, who composed two quartets for the same combination of piano, violin, viola and cello. Like Mozart, Brahms placed his First Piano Quartet in the stormy key of G minor, defying from the start the idea of chamber music as good-natured, unchallenging music for the amusement of amateurs.
The other titan standing over Brahms' shoulder was Beethoven, who perfected the art of distilling motives down to their essence. (The fourteen-year-old Beethoven did write three piano quartets, but they were immature works that held far less importance for the future of chamber music than his later piano trios and other efforts.) The main theme of Brahms' opening Allegro movement, introduced in quiet octaves by the piano alone, is a model of Beethovenian efficiency. Four evenly spaced quarter-notes set up two signature intervals: The first pair outlines a wide leap up, while the second pair ascends by just a narrow half-step. The very next measure flips the direction, tracing a downward leap and a descending half step. These simple but distinctive ingredients allow for countless manipulations, with each two-note unit measured against the listener's memory of what has come before.
The first movement's bold argument leaves a residue that persists for the rest of the quartet. Whether or not we recognize it consciously, there is a familiarity to the wispy melody that starts the Intermezzo, with its heavy emphasis on the rising half-step at the end of each phrase. The Andante con moto third movement might seem a world apart, with its songlike melody and stately bearing, and yet once again it traces a theme in steady quarter-notes, the first two notes forming an upward leap, the second two notes countering with a rising half-step. Patterns of pulsing triplets echo the similar figures in the Intermezzo.
The triumphant climax of the contrasting Animato section is a hard summit to top, but the finale rises to the challenge with its Rondo alla zingarese. The brisk tempo and vigorous accents mimic the Hungarian or "Gypsy" sound that Brahms fell in love with as teenager, when Hungarian refugees passed through his hometown of Hamburg en route to America. Even here the rigorous logic holds firm, with accented half-steps and other familiar intervals advancing the emphatic message of this epic quartet.
© 2017 Aaron Grad (www.aarongrad.com)
Aaron Grad is a composer and guitarist. He has also been the exclusive program annotator for the Orpheus Chamber Orchestra since 2005, and contributed program notes to the Cleveland Orchestra, New World Symphony, Saint Paul Chamber Orchestra, Seattle Symphony, Celebrity Series, Columbia Artists Management, and others. His concert reviews have appeared in The Washington Post, and PlaybillArts regularly publishes his feature articles and interviews online.