Sanders Series
May 18 — 7:30 p.m.
Venue:
Sanders Theatre
Mozart
Horn Quintet in E-flat major, K. 407
Mendelssohn
Piano Sextet in D major, Op. 110
Françaix
Octet for Winds and Strings
Featured musicians
Romie de Guise-Langlois, clarinet
Adrian Morejon, bassoon
William Purvis, French horn
Ida Levin, violin
Harumi Rhodes, violin
Dimitri Murrath, viola
Marcus Thompson, viola
Raman Ramakrishnan, cello
Thomas Van Dyck, double bass
Randall Hodgkinson, piano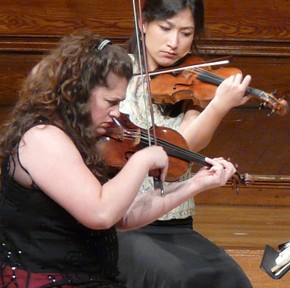 Buy Tickets
More like a miniature horn concerto than true chamber music, the Mozart Horn Quintet is so delightfully mischievous one loses sight of the wickedly difficult horn part. The sextet that follows premiered just three days after Beethoven's ninth symphony at one of Berlin's most coveted social events, the bi-weekly gatherings hosted by the Mendelssohn family. The season concludes with Françaix's À Huit, best described in the composer's words as "musique pour faire plaisir" – music to please.
Read Program Notes
Wolfgang Amadeus Mozart (1756–1791)
Horn Quintet in E-Flat major, K. 407 (1782)
The year 1782 was full of promise for Mozart. He had moved the year before from Salzburg to Vienna. By then he was savoring his first year of independence from his father, proving he could make a living as a freelance musician, and establishing important relationships with wealthy and influential supporters. Outgoing and sociable, he maintained a large and varied group of friends and acquaintances, including a number of fellow countrymen from Salzburg. One of them was a brilliant horn player named Joseph Leutgeb. Mozart had known him since 1763 when Leutgeb arrived in Salzburg to play in the orchestra and became friends with the Mozarts, including the seven-year-old prodigy Wolfgang. Leutgeb was skilled at the valveless waldhorn and praised for his ability to "sing an adagio as perfectly as the most mellow, interesting and accurate voice," as one French critic put it.
Like Wolfgang, Leutgeb had moved to Vienna, where Leopold Mozart had lent him money to start a cheese business. For some reason, Leutgeb long had been a butt of Wolfgang's jokes and pranks. Mozart would amuse himself by writing insulting comments on Leutgeb's music: "Oh how flat you play!" "Ouch!" "Help!" Or he would throw manuscript pages on the floor and have Leutgeb crawl around collecting them. On the autograph of the E-flat Horn Concerto, Mozart wrote, "Wolfgang Amadé Mozart takes pity on Leutgeb, ass, ox, and simpleton." It is thought that Leutgeb may have served Mozart as a willing buffoon or court jester. As Mozart himself once wrote, "I can never resist making a fool of someone."
Despite all this, the two men remained on friendly terms. Evidently Mozart appreciated what a superb horn player Leutgeb was, because he wrote all of his horn concertos as well as the horn quintet for him. The amiable quintet, while not a concerto, keeps the focus on the horn. Mozart scores the work for an unorthodox string combination—one violin, two violas and one cello—that contributes to the unusual sonorities. Humor runs through the quintet; it is as if Mozart's relationship with Leutgeb infected the mood of the piece. From the opening measures, with their contrast between a rhythmic fanfare and an airy response, the first movement announces that this work will amuse as well as charm. Throughout the movement, as the horn introduces long-lined motifs and the violin answers, the flow is interrupted by a playful four-note fanfare. With the graceful Andante the joking is put on pause, as the horn and the violin engage in a tender duet and all five instruments contribute to the lyrical conversation. High spirits return with a rhythmic variant of the Andante's theme in the jovial Rondo propelled by an exceptionally difficult horn part.  Mozart mischievously displaces the opening theme, forcing the listener to question which is the downbeat and which is up. It is all part of the fun of this good-natured work.
Felix Mendelssohn (1809–1847)
Piano Sextet in D major, Op. 110 (1824)
The prodigious talents of young Felix and Fanny Mendelssohn were well known among the Mendelssohn family's wide circle of friends and acquaintances. The family's rich musical life included  frequent musical gatherings where the two children, both virtuoso pianists, entertained and enthralled guests. One of their talents, according to their proud mother, was their ability to transcribe full opera scores into piano duets on sight. The family musicales, along with other private gatherings, were young Felix's primary musical outlet, and his indulgent parents happily provided support. For his twelfth birthday, they underwrote a production of a one-act opera at their residence, complete with orchestra. It was at these musicales that Felix premiered many of his new compositions, including, probably, the Piano Sextet in D major.
By the time he was 15, Felix had produced a staggering quantity of music—well over 100 compositions, as many as most composers produce in a lifetime. Symphonies, concertos, keyboard and chamber works, lieder, operas—the music poured out of him. His training had been rigorous. He had been steeped in Bach's counterpoint and Haydn and Mozart's classicism, and he was deeply affected by Beethoven. On his fifteenth birthday, in 1824, his teacher Carl Zelter proclaimed young Felix's apprenticeship over and exhorted him, "Now work on until you become a master." Zelter could not have known just how close his gifted young pupil was to mastery: A year later, at age 16, Mendelssohn would write the Octet that earned him a place among music's greats. Still, his output in 1824—which included the Piano Sextet—was clearly the work of an astonishingly talented and wonderfully appealing young composer.
Like the Mozart Horn Quintet, the Piano Sextet is scored for one violin and two violas. Adding to this unusual combination is a double bass, an instrument not often found in chamber compositions of the time. (Schubert used one in his Trout Quintet, but it is unlikely that Felix was familiar with that work.) The combination weights the texture of the Sextet toward the lower registers and allows the piano to stand out—and stand out it does. From the bravura triplets that propel the high-spirited first movement to the last-movement's thunderous finale, the pianist is given material to dazzle, as young Felix must have dazzled musicale listeners when he performed it. The sparkling Allegro vivace is followed by a gentle Adagio where Mendelssohn shows his gift for limpid melodies. Here too the piano takes the lead, this time over muted strings. If the early movements have a Mozartean gracefulness, the third and fourth movements show the influence of Beethoven's dramatic style. While the brief third movement is called a Menuetto, it is in 6/8 time marked "Agitato," and has more the feel of a Beethoven scherzo than a Mozart minuet; even its chromatic Trio is restless. In another gesture inspired by Beethoven, the glittering last movement takes a surprising turn when, after a passage marked fff, Mendelssohn reprises the Menuetto before ending the Sextet with a fiery, madcap coda.
Jean Françaix (1912–1997)
Octet for Winds and Strings (1972)
It would take a hard heart not to be charmed by Jean Françaix's jaunty, tuneful, utterly delightful Octet. The music of this quintessentially Gallic composer summons up early 20th century Paris and all the composers Françaix admired, from Chabrier's elegance and Poulenc's irreverence to Ravel's formal mastery and Stravinsky's neoclassicism. For Françaix, there was no border between "serious" and "entertaining": Music could be both, as he demonstrated again and again throughout a long and prolific career devoted to producing what he called "Music for Pleasure."
Françaix's gifts were evident early. At 10 he began studying with Nadia Boulanger who soon wrote to his mother, "I don't see why we should waste our time teaching him harmony. He already knows harmony. I don't know how he knows, but he knows. He was born knowing harmony. Let's try counterpoint." By his early twenties, he was solidly established as a brilliant pianist and a composer whose works were much in demand. Throughout his life he wrote effortlessly and composed steadily, producing more than 200 works, including ballets, operas, and many concerto and chamber compositions for virtually every instrument in the orchestra. At the age of 77 he wrote of himself that "he continues to compose without interruption." Through all the avant-garde trends of the 20th century, Françaix stayed true to his own vision and remained a neoclassicist whose tonal works are distinguished by simplicity and balance, rhythmic verve, melodic elegance, fastidious craftsmanship, and an ever-present sense of fun.
Light-hearted does not mean lightweight, however. As Françaix said in the 1970s, "I am always told that my works are easy. Whoever says that has probably not played them." His tightly constructed Octet proves the point: it demands great virtuosity from the performers. Françaix wrote it for Willi Boskovsky, concertmaster of the Vienna Philharmonic, and dedicated it to the memory of Franz Schubert whose own Octet was scored for the same instruments. Françaix's work, which he titled À huit, is a delightful example of how he combines airiness with sophisticated technique. The serene slow introduction that opens the first movement quickly leads into a breezy main section in which the instruments pass a motif back and forth as if in conversation, as the music scampers along at a brisk clip. Throughout this movement and the rest of the Octet, Françaix skillfully balances and blends strings and winds. The Scherzo takes up where the first movement leaves off. Everything contributes to the playfulness, from the pizzicatos, to the robust rhythms, to the humorous way in which Françaix uses counterpoint, pitting flowing melodies against underlying patter. The Andante shows another of Françaix's strengths: the ease with which he produces lyrical, elegant melodies. Then comes a movement that Schubert didn't include in his Octet: a delectable, engagingly off-kilter waltz. Following a mock-stern introduction, it scurries happily along, slips into occasional parody—including a moment of discord that brings to mind Ravel's La Valse—and ends as amusingly as it began, with a final grandiose declaration.
(c) Barbara Leish