Sanders Series
April 13 — 7:30 p.m.
Venue:
Sanders Theatre
Beethoven
Piano Quartet in E-flat major, Op. 16
Tsontakis
New Work for Clarinet, Violin, Viola, Cello and Piano (BCMS Commission)
Glazunov
String Quintet in A major, Op. 39
Featured Musicians
Alex Fiterstein, clarinet
Harumi Rhodes, violin
Marcus Thompson, viola
Ronald Thomas, cello
Raman Ramakrishnan, cello
Randall Hodgkinson, piano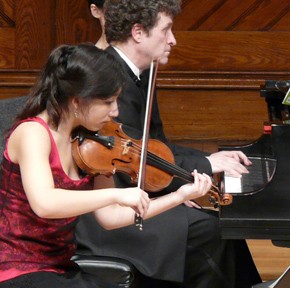 Buy Tickets
Beethoven, inspired by Mozart's successful Quintet in Eb, composed the quartet first for wind quintet with piano in 1797, but when it was published in 1801 there was another nearly identical version for piano and strings. Marked by an unusual melodiousness and richness of expression, Glazunov's Cello Quintet dates from the heady days of his youth before work, politics and alcohol got in the way. The first fruit of our Commissioning Club is a new work by renowned composer George Tsontakis based on paintings of El Greco on the 400th anniversary of his death. We thank all the members of the Commissioning Club for their generous support in the creation of our art in our time.