Sanders Series
April 13 — 7:30 p.m.
Venue:
Sanders Theatre
Beethoven
Piano Quartet in E-flat major, Op. 16
Tsontakis
Portraits by El Greco (Book I): Quintet for Clarinet, Violin, Viola, Cello and Piano (BCMS Commission)
Glazunov
String Quintet in A major, Op. 39
Featured Musicians
Alex Fiterstein, clarinet
Harumi Rhodes, violin
Jennifer Frautschi, violin
Marcus Thompson, viola
Ronald Thomas, cello
Raman Ramakrishnan, cello
Randall Hodgkinson, piano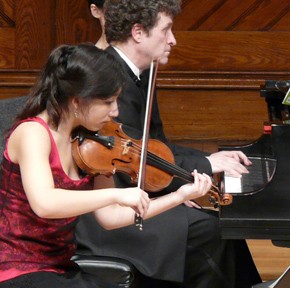 Buy Tickets
Inspired by Mozart's successful Quintet in E-flat, Beethoven's Op. 16 quartet is one of his earliest attempts at symphonic composition in a non-symphonic idiom. Marked by an unusual melodiousness and richness of expression, Glazunov's Cello Quintet dates from the heady days of his youth before work, politics and alcohol got in the way. The first fruit of our Commissioning Club, Tsontakis's Portraits by El Greco is inspired by paintings of the great Spanish Renaissance artist in observance of the 400th anniversary of his passing .